---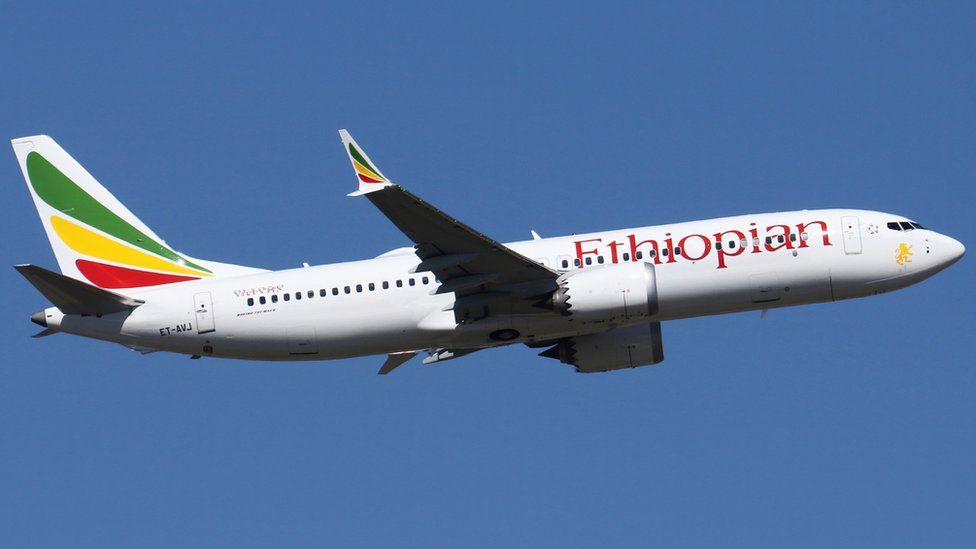 Image source, Jonathan Druion
Image caption,
The Boeing 737 Max-8 aircraft that crashed nearly four years ago
By Theo Leggett
Business correspondent, BBC News
Aircraft giant Boeing will answer a fraud charge in court later over two plane crashes which killed 346 people.
Both accidents were down to flaws in the flight control systems on the 737 Max aircraft which caused nosedives.
Boeing was found to have failed to disclose information about the system but avoided a trial by agreeing to pay $2.5bn (£1.8bn) in fines and compensation.
Relatives of those who died are trying to reopen the settlement.
It means that for the first time, the company will be formally charged in court in relation to the two crashes, and will have to plead guilty or not guilty.
Boeing has previously opposed reopening the agreement with the US Department of Justice (DOJ), saying to do so would be "unprecedented, unworkable and inequitable." It declined to comment on the arraignment.
Boeing 737 Max aircraft were cleared to fly again in the US in 2020 and the UK and EU in 2021 after being grounded following the crashes in 2019.
It is nearly four years since Ethiopian Airlines flight ET302 crashed minutes after take off from Addis Ababa to Nairobi. 157 people died when it plunged into farmland outside the Ethiopian capital in March 2019.
The accident involved a new design of aircraft - the 737 Max.
Just months earlier, an almost identical aircraft operated by the Indonesian carrier Lion Air had crashed into the Java Sea on what should have been a routine flight from Jakarta to Pangkal Pinang.
189 passengers and crew lost their lives.
It later emerged that both accidents were triggered by design flaws, in particular the use of flight control software known as MCAS.
The system was designed to assist pilots familiar with previous generations of 737, and prevent them from needing costly extra training in order to fly the new model.
But sensor failures caused it to malfunction - and in both cases it forced the aircraft into a catastrophic dive the pilots were unable to prevent.
Investigations in the US revealed that Boeing had not included information about the MCAS system in pilot manuals or training guidance, and had deliberately sought to downplay the impact of the system in its communications with the US regulator, the Federal Aviation Administration.
Image source, Reuters
Image caption,
The 737 Max was cleared to fly again in 2020, after being grounded since March 2019
In January 2021, the US Department of Justice (DoJ) charged Boeing with fraud. But the company was able to avoid going on trial, by agreeing to pay $2.5bn in fines and compensation, and promising to tighten up its compliance procedures.
This settlement - known as a deferred prosecution agreement - provoked intense anger among a number of the relatives of those who died aboard ET302.
They claimed, and continue to claim, that the deal was a "sweetheart agreement" which was concluded without their knowledge, violated their rights, and allowed the company to avoid being held fully accountable.
The Department of Justice defended its decision, insisting that the settlement was appropriate, because it could not prove beyond reasonable doubt there was a direct connection between Boeing's alleged crimes and the two crashes.
Major milestone
The hearing later follows more than a year of legal wrangling in a Texas court, where the families are attempting to have the agreement reopened.
Boeing has been ordered to send an "appropriate person" to appear on its behalf. It is not clear who this person will be.
Meanwhile, relatives of the victims will be allowed to read impact statements to the court, or have such statements read out on their behalf.
There's no doubt that for the families, including those living in the UK, the arraignment hearing itself is a major milestone.
Zipporah Kuria's father, Joseph Wathaika was killed in the crash of ET302 - and she has been a vocal campaigner for Boeing to be held to account ever since.
She will be in Texas for the hearing, and says her statement will be a tribute to an "incredible" man who changed many lives.
"It feels like we're finally being seen," she said. "It feels like the death of our loved ones, of 346 people, at least has a level of relevance now."
'A cover-up is not justice'
Mark Pegram, whose son Sam was working for a refugee agency when he died on the same plane, has been unable to travel to Texas. But he said he was very glad the hearing is taking place.
"To us a fine and cover-up is not justice," he said.
"It is important a precedent is set to prevent similar loss of innocent lives, and for Boeing to understand the horrific impact their misconduct has had on so many families," he added.
It is still far from clear whether the legal action will ultimately lead to the deferred prosecution agreement between Boeing and the DoJ being reopened.
Such a move would be highly unusual. But according to Robert A Clifford, a Chicago lawyer representing the families in a separate civil action, it could have far reaching consequences - including action against individuals.
"These families want the maximum penalty imposed against Boeing, and they want any immunity from prosecution that senior officials at Boeing received to be lifted," he said.